By Anna Kovneva | 2018 June 19
Mooqita is happy to announce that our team's case study submission was accepted and published at CHI 2018, the ACM Conference on Human Factors in Computing Systems. CHI is the premier international conference on human-computer interaction that brings forth researchers and practitioners to discuss advances in interactive technology. This year the conference took place from April 21st – April 26st in Montréal Canada, and our Mooqita team members Markus Krause and Jan Smeddinck attended and represented the team.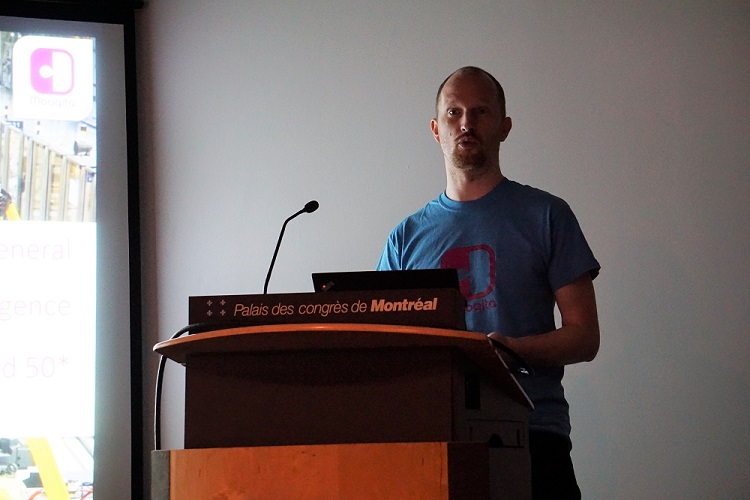 Markus presented the Mooqita case study which provides an overview of the Mooqita platform and summarizes a pilot study of the platform that featured an integration with an online software development course offered by UC BerkeleyX. Online learners were given the opportunity to earn money, real project work experience and start building a portfolio through the deployment of additional assignments that aligned with the course. During the Mooqita process, learners solved these assignments, provided peer reviews for one another, and then gave feedback on the reviews that they received. Based on these data points, teams were selected to work on a final paid assignment that was offered by a company. In return for the assignments,companies received interview recommendations featuring qualified learners as well as solutions to the tasks that they provided. In the case of the UC BerkeleyX course, six learners were selected for the paid group assignment that paid $600 per person, and four of these learners were invited to interviews at two participating companies. The following video provides a short summary of the publication.
This published case study can be found in the CHI Extended Abstracts, available in the ACM Digital Library. CHI 2018 also hosted a Science Jam co-organized by Jan. The Science Jam was a two-day event that engaged participants with human-computer interaction research as they designed and implemented experiments.
CHI 2018 gave us the chance to connect with experts in the field and collect feedback. CHI is the leading conference in many fields relevant to Mooqita. The Mooqita team is grateful for this opportunity. The feedback provided by the community helps the further development of the platform. Attending CHI allows the project to stay connected to its roots in the active and endeavoring research community that engages at this unique conference.
Links
https://dl.acm.org/citation.cfm?id=3170427.3174351 (link to published paper)
https://chi2018.acm.org/ (more info about CHI 2018)